CAREER OPPORTUNITIES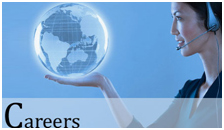 Our Company. Your Career. Together we grow.
Worldwide Branding is the fastest growing personal branding company in the world.
We offer everything from online and print advertising for increased exposure, to interactive promotional portals, to mass communication platforms to personalized branding packages. We have uniquely designed an exclusive array of products and services for our members to promote their businesses and themselves. With a strong personal brand, our clients can expand their careers and business opportunities, and ultimately outshine the competition.
The Inside Sales Branding Account Director is the first line of sale who receives - and follows-up on - membership applications. They play a major role in the success of the company by selling these warm-lead responses who have expressed an interest in our branding and networking products.
Our goal is to provide each of these new account representatives with the necessary skills to not only reach their income goals, but also to attain a defined career path with limitless potential within a stable company. On a daily basis, Inside Sales Branding Account Directors will work with warm-lead contacts who have responded to our mailings and are ready to purchase a membership. It is the responsibility of these account representatives to make individuals aware of the different levels of membership and ultimately sell them one over the phone.
When our responsibility is to publish the core vitae of our members, we can never stop looking for the best, brightest and most experienced professionals. ARE YOU ONE OF THESE PROFESSIONALS?
Enjoy the benefits of:
Working in a beautiful and inspiring work environment on Long Island, in a secure, Triple A Building.
Excellent support staff, on-going training and advancement.
No cold calling - one-call sales using qualified, interested leads.
Weekly payroll plus bonuses and contests, on a daily, weekly and monthly basis.
Earning potential: $65K - $100K
Full-Time Hours: 9 a.m. - 5:30 p.m.
Australian/New Zealand night shift hours: 6 p.m. – 2:30 a.m.
International shift hours: 7 a.m. – 3:30 p.m.
No nights and weekends.
Healthcare and benefits package with a monthly employer contribution.
If you have four or more of these skills, apply today!
At least three years scripted phone-selling experience required. DO NOT apply if you lack this experience.
Basic computer skills: be familiar with Microsoft Word and MS Outlook.
Excellent customer service, sales and relationship building skills.
Strong, articulate English writing and communication skills; keen listening abilities.
A strong work ethic motivated by compensation and results. Good judgment and discretion to accomplish goals and meet work requirements.
A desire to learn and advance in a fast-paced sales environment.
The ability to stay organized and prioritize multiple tasks, without compromising quality or service.
Authorized to work in the United States for any employer.
FAX RESUME
(516) 393-0445
EMAIL
CAREERS@WORLDWIDEBRANDING.COM
APPLY ONLINE
Apply today by uploading your resume on or online platform: Apply today
EEOC Disclaimer: Employment offers are tendered solely on the basis of qualifications without unlawful consideration of Race, Religion, Age, Color, Gender, Marital Status, National Origin, Disability, Veteran Status, Sexual Orientation, or as otherwise required by applicable law.