ELITE AMERICANS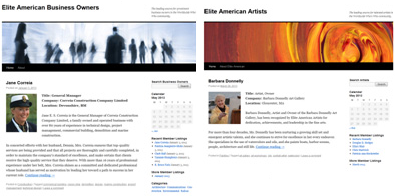 Elite Americans is a premier online publisher that recognizes outstanding professionals in their specific field. Our listings contain professionals that have achieved a high level of recognition, achievement, and contribution in their chosen profession.
The Elite Americans selection process is a comprehensive and detailed attempt to produce a list of professionals that have demonstrated an exceptional degree of achievement in their field. Our process involves many factors including an assessment of a chosen individual's years of service and unique contributions. This combined with a comprehensive interview of the professional allows us to make an appropriate decision regarding inclusion in the Elite directory.
The Elite Americans mission is to deliver a high quality product to its inductees so that they are able to receive the recognition that they deserve. Inclusion in the Elite Americans directory is an honor limited to individuals who have demonstrated leadership and achievement in their industry and occupation.
Elite Americans is a division of Worldwide Branding, the fastest growing personal branding in the world today.