MEMBERS IN THE NEWS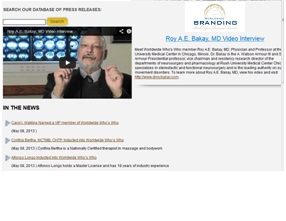 Worldwide Branding members lead active and inspiring lives. Among starting new businesses, positively impacting their communities and serving as role models for future generations, they consistently raise the bar on productivity. Our Press Release Distribution Program ideal platform for these trailblazers to widely share news and updates about their achievements -not only within the private Worldwide members' circle, but also with the world.
Each optimized release is written by our in-house editorial staff and tailored to the featured member's preferences. Whenever possible, our team will also add photo and video content creating a more immersive experience for readers. The press releases are then circulated to major online media outlets and search engines - including Google and Yahoo! - boosting our members' visibility on the Web.
If you would like to utilize our multi-media distribution services to advance your online brand, please e-mail multimedia@worldwidebranding.com. Be sure to have your Member ID handy, as this service is exclusive to Worldwide members.