PRO-FILES MAGAZINE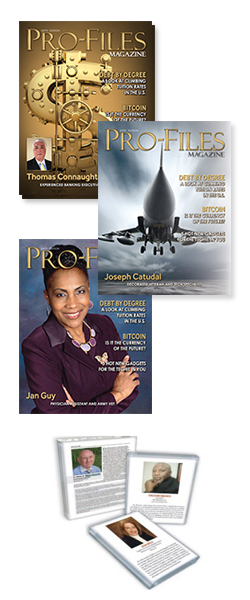 Featuring a diverse compilation of individuals from multiple backgrounds, Pro-Files Magazine is an effective tool in promoting the talents and services of Worldwide Branding members to an ever-growing international network like never before. One of our most popular titles, Pro-Files includes engaging articles presented by our editorial staff that shed light on current issues regarding business, finance and health amid discussions of members' achievements, varying levels of expertise and qualifications in industry-specific sections.
In addition to spotlighting some of our most seasoned and accomplished professionals, Pro-Files offers a glimpse at the array of brand-enhancing products and services provided by Worldwide Branding, including personalized newsletters and search engine-optimized videos. With our recent international expansion, which has attracted business leaders from the United Kingdom, Canada, Australia and Asia, the contributions of both active and retired members in Pro-Files Magazine are shared with thousands in the form of printed copies and an online version compatible with tablets, e-readers and smartphones. To learn more about Pro-Files Magazine, please contact us at: pro-filesmagazine@worldwidebranding.com
PRO-FILES MAGAZINE COMMEMORATIVE PLAQUES
A beautiful complement to the print publication, the Pro-Files Magazine wall plaque is available in two sizes to commemorate your feature and provide a stunning display for your home or office. Both durable and versatile, our plaques are created using advanced dye-transferring technology that replicates your feature with amazing clarity and quality.
Everyone, from the young upstart to the industry veteran with decades of experience, can benefit from added credibility and potential networking opportunities. Whether displayed alone or among other recognitions, awards, diplomas and the like, Pro-Files Magazine wall plaques are charming mementos that attest to your accomplishments and commitment to excellence.