HARDCOVER REGISTRY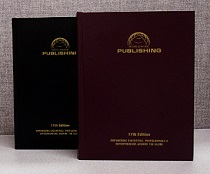 Our signature publication, the Worldwide Publishers' Hardcover Registry is a compilation of professional biographies designed to preserve each member's legacy in print. Broken into three sections, the hardcover registry recognizes the elite among our membership base of 600,000 individuals based on special distinctions they have received from Worldwide Branding, and provides newer members with a means to identify power players with whom they have gained the opportunity to network.
Each Executive, Professional and Entrepreneur (EPE) of the Year receives a full-page, full-color feature, identifying key components of their professional biographies. They also have the opportunity to include two color images and supplemental information in the form of an Expanded Biography. EPEs are distinguished for their personal and professional achievements, educational repertoire, career longevity, and service to their respective communities and industries.
VIP Members of the Year are chosen as a result of their leadership qualities, professional prowess and commitment to excellence. Each VIP receives a half-page listing in the hardcover registry, and has the opportunity to include two black-and-white images to complement their biographical information.
Our Honored Members account for the bulk of our listees and represent our ever-expanding membership base. Most Honored Members are selected for inclusion in the hardcover registry during their first year of membership, solidifying their place among seasoned professionals, and oftentimes making appearances in subsequent editions as they grow as Worldwide Branding members.
Beyond serving as a networking tool and permanent testament to each member's personal success, the hardcover registry is a great conversation piece, and an heirloom that can be passed down from generation to generation. We encourage featured members to display their registry proudly in their home or office, and share it with family, colleagues and friends.