BUSINESS MATCHES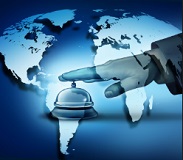 We understand that our members have busy schedules and may not have time to find contacts using the advanced search feature. We have figured out a way to do some of the work for you. Even before members conduct their first search, our internal business matching system, will automatically identify and populate members of interest. Simply click on Business Matches in the Dashboard and proposed matches will appear. Business matches are at no cost to our members.
BUSINESS CONCIERGE
Creating and maintaining a strong network is paramount to personal and professional success in today's fast-paced corporate world. With our innovative Business Networking Service, we aid networking efforts by matching members with fellow professionals, potential clients and customers, or other like-minded individuals.
Our marketing specialists are able to identify top professional contacts based on custom criteria provided by members who subscribe to the program. Our members simply communicate specific networking requirements and a personal liaison locates targeted individuals from our half million member base. This unique concierge service allows us to search by geographic area, industry, title, or even years of service. Once a detailed search and analysis is completed, we deliver the appropriate leads directly to our members!
If you are interested in learning more about our business concierge, please contact us at: conciergerequest@worldwidebranding.com